Wallkill has more than its share of Toxic Sites...
...now, Toxic Discharges from the Orange County Landfill flow past our drinking water supply wells along the Wallkill:
these wells are under the influence of the Wallkill River.
Read about it on our Home Page.
---
General Switch, Interceram, Revere Smelting and Refining and Orange & Rocland all have dangerous toxic sites in the Town of Wallkill.
If this isn't bad enough, one of our major sources of drinking water is threatened by the Orange County Landfill which has been seen as unstable because of the geology of the land on which it sits.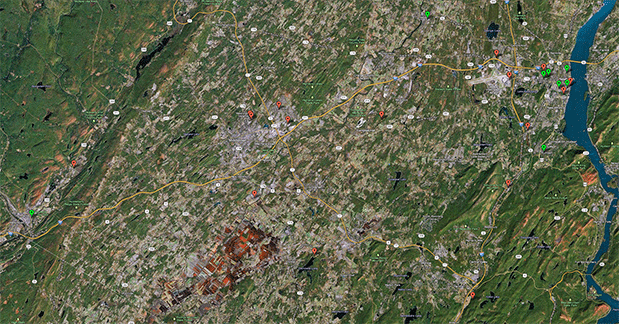 For a number of years I was the Treasurer and a board member of Orange Environment, and currently, I am on the Revival Planning Committee for the Clearwater Organization.
I am dedicated to a clean and healthy environment.
The issue of toxic sites in the county and particularly in the Town of Wallkill has been a topic of concern since I moved here over twenty years ago. Revere Smelting and Refining has been my top concern here in our town, and I have been to many meetings and public hearings on this topic. I am on the DEC mailing list for parties of interest relative to the RSR issue.
Residents have been asking about RSR
As many of you know, I attend town board meetings regularly, and have periodically heard questions of concern being asked about the ONGOING pollution from the RSR facility. Unfortunately, there was no information available from Mr. Depew or any other member of the town board.
However, being on the DEC contact list, I did have information to share with my fellow residents, and after answering as best I could with the information at hand, I contacted the chief engineer in charge of this mitigation project to gather more information.
I am sad to say that pollution is still spreading from the RSR facility, and there is a question of how much money RSR is willing to allocate to remedy this problem, sooner rather than later. The DEC engineer is pleased with the plan, but the speed of implementation is a problem. Most of the danger is the result of surface water passage through the property as defined by the number of small streams that flow across the RSR facility and exit to other properties. The plume of lead contamination has spread all the way to the side of Interstate 84.
Increasing the progress of this mitigation will, of course, should be a primary objective of the supervisor of our town, and all dangerous toxic sites should be priority issues for every public official in the Town of Wallkill and the County of Orange.
However, Our local politicians like to pander to the area businesses for campaing contributions, or brag about economic development regardless of business and industrial impacts to our environment, our health or the enjoyment of our local natural resources.
And, while economic develpoment is a fact of life, our government official should not be bragging about yet another low-wage food chain restaurant, or retail outlet. They should noy take credit for business decisions made by companies already doing business in the Town of Wallkill when they chose to expand their facilities.
High-density low-income housing which yields huge tax benefits to developers is not the best use of residentially zoned properties when creative solicitation of new employers with new and environment friendly businesses that will pay a living wage are not forthcoming from our elected officials. Where will the people attracted to this type of housing find employment that will pay enough to sustain them?
And, it should be a great concern to our town officials when a company that does business in our community demands that a job applicant give up their right to privacy when filling out a job application. Employers have no right to intrude on their employees' private lives, to have access to any passworded media account, to deny employment because an applicant was or is a member of a union, or invade their privacy in any way whatsoever. But, this happens every day in the Town of Wallkill.